About Us
Featured

Authors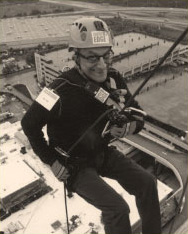 Bill King: Facing the Odds and Living to Write About It
Life did not give Trafford author Bill King much, especially during his childhood. But instead of caving in and being content with merely existing rather than actually living, King defied the odds and reached heights few thought he was capable of—arguably the highest of which was his election to both the Alabama House of Representatives and the Alabama Senate back in the 1970s.
Later on, he burnished his legacy by publishing a book with Trafford entitled Hack, which is a novel that takes the well-known evolutionary phrase "survival of the fittest" and applies it to characters curiously named after several of his real-life friends back in Alabama: "Hack," "One Lung," "Woosie," "Snake" and "Poolroom."
Set in the 1950s following the difficult era that came after the Depression in the cotton mill villages of Alabama, the story speaks of the crazy adventures of the aforementioned characters—from jumping off the Tennessee River Bridge to climbing the tower to the mill's shift change siren. Published back in 2007, the book is getting a renewed push this year.
But before Mr. King could ever get to publishing a book, he had to hurdle several roadblocks that life set before his path. And even early on, there were already plenty, including being left behind by his drunk stepfather with an African American bootlegger named Kathrin.
"I was born in a cotton mill village boarding house in Huntsville, Alabama. Most of my early years were spent on the dirt streets and alleys of the village," shared Mr. King. "My father died when I was nine and my mother remarried. My stepfather on a Saturday morning dropped me off at a black female bootlegger's place and promised to pick me up in a couple of hours. He didn't show up for three days, and she wouldn't let me go with him because he was drunk!"
Three months later, Mr. King's father came back for him, but still the little sprite wouldn't go and stayed with Kathrin until he finally moved to live with his grandmother during his adolescence—a time marked with mischief.
"My early teen years with my mill village buddies were wild. We hung out in the village poolroom and hitchhiked to the Tennessee River where we swam naked. We ganged up on guys from the Lincoln Mill village if we caught them in our territory. We had rock battles with the Lincoln Village across the railroad tracks that separated the two villages. One of our guys lost an eye in the battles," Mr. King narrated.
Unbeknownst to many of his chums, Mr. King had aspirations to make something out of himself and took steps in that direction when, at 17, he joined the Air Force and was sent to Bowling Green State University in Ohio. Not long after he was discharged from service, Mr. King continued his studies and finished while laying down sewer lines across Tennessee.
His confidence bolstered and morale high, Mr. King started and developed his own management and development company with clients all across Alabama, Tennessee, Georgia, and Florida.
To hammer home the point that he was a man bred for success, Mr. King racked up one prestigious award after another, being selected as one of the Four Outstanding Young Men of Alabama in 1968. He was also the chairman of the Jimmy Carter's presidential campaign in Alabama in 1978 and was subsequently appointed by the president himself to the President's Advisory Commission on Intergovernmental Relations.
That's not all. Mr. King was also the awarded with the Thomas Jefferson Award by the Alabama Press Association and was named as the state's Conservationist of the Year back in 1974.
And while Mr. King may have had his share of victories in the boardroom, he has also had his fill of the outdoor life with his adventures, ranging from scuba diving to bungee jumping and even skydiving.
Let him tell you one of his misadventures during a deep-sea diving expedition in the Atlantic: "I am a certified scuba diver and on one of my dives at a diving location called Tonge of the Ocean which was an underwater cliff in the Atlantic about two miles deep, I went off the boat and straight down, so excited about the dive location that I forgot to adjust my eardrums on the way down. My left eardrum exploded and I lost consciousness but somehow made it to the surface. Some divers helped my get on the boat. I now have a hearing aid for my left ear!"
Or that of his travails during one particular skydiving jump: "One of my favorite past times was skydiving. I had made more than thirty dives when I lost it. My diving group was diving at a rural airport in Clanton, Alabama. I was soaring across the sky with my wings out when I decided to open my chute and land. As I was crossing the airport landing strip, I heard a noise and looked down between my legs to see a small plane taking off. It was right under me and the power of the plane's propeller had me swinging back and forth under my chute. I had swung almost to the height of my chute when I came down on the runway. My chute dragged me another fifty yards on the runway and ripped off my clothes, smashed my helmet instead of my skull and knocked me unconscious. It took me two weeks soaking in a tub of hot water to get moving again!"
Or even with his near brush with death on a bungee jumping escapade: "I was on the top of a one hundred and twenty-five foot tower getting prepared to go over the side. Two guys were on the platform with me. They were strapping me in the harness and chatting about the beautiful weather when one of the shouted 'OK!' I was leaning over the edge of the tower about to jump when one of them grabbed me by the harness. I was not connected to the bungee cord and would have been gone—literally, if he had not grabbed me. He was saying 'OK' to his friend and not telling me to jump. I had a great jump and lived to tell about it!"
Like his life in general, Mr. King has had one too many close calls. But through it all, with equal parts resilience and perseverance, he has managed to stand up every single time and shout this to the rest of the world: "I have never had a broken bone!"
By clicking "Request My Free Consultation", you are providing your electronic signature, voluntarily authorizing Trafford Publishing and its affiliates to contact you using a manual or automated telephone dialing system and send you advertisement or telemarketing messages by email or text/SMS/MMS message to the address and phone number you have provided above. You are not required to agree to this in order to buy products or services from Trafford Publishing. You certify that you are over the age of eighteen (18). You'll get up to ten (10) messages per month. Standard message and data rates may apply. Click here to view our privacy policy.