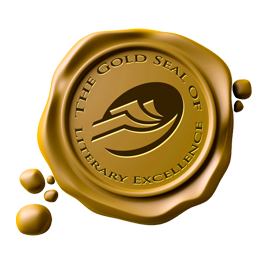 The Trafford Publishing Gold Seal of Literary Excellence
More and more self-published titles get released every year, and with it, the industry's demand for high-quality published works grows. It's now quite normal to hear of traditional publishing houses and movie producers scrutinizing scores of published titles for their next big hit.
This is where Trafford's self-published authors get a leg up against the competition – because Trafford has always been committed to launching the finest possible first edition of your book when it set out to establish the gold standard for publishing.
Setting the Standard for Publishing
The chance to reach the peak of literary excellence is yours, as Trafford offers you the valuable opportunity to gain premium credibility to shore up your book's marketing campaign with the Gold Seal Premium—a service that allows your book to be critiqued to earn the distinguished Gold Seal of Literary Excellence.
Works with a positive review will receive our Gold Seal of Literary Excellence. The published books' covers are branded with a Gold Seal stamp, distinguishing it from the work of any other supported self-publishing services provider. Your cover will also feature your reviewer's critique, as it would appear on the cover of any bestselling novel.
Purchase the Gold Seal Premium and your manuscript will be submitted by Trafford to one of the most respected and professional reviewers in the publishing industry, the US Review of Books.
Trafford's Gold Seal Authors Receive Custom Benefits and Critical Recognition
Your book cover branded with Trafford's Gold Seal of Literary Excellence will distinguish your work and serve as an immediate reference for traditional publishers, movie producers, and your readers when choosing their next literary experience.
A positive review from a respected publishing industry specialist such as the US Review of Books on your book's cover is a compelling recommendation—an indication of a quality work of art.
By clicking "Request My Free Consultation", you are providing your electronic signature, voluntarily authorizing Trafford Publishing and its affiliates to contact you using a manual or automated telephone dialing system and send you advertisement or telemarketing messages by email or text/SMS/MMS message to the address and phone number you have provided above. You are not required to agree to this in order to buy products or services from Trafford Publishing. You certify that you are over the age of eighteen (18). You'll get up to ten (10) messages per month. Standard message and data rates may apply. Click here to view our privacy policy.