About Us
Featured

Authors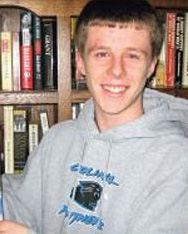 Billy Wetzel: Never Too Young to Chase Literary Dreams
You are never too young to launch a literary career. Trafford-published author Billy Wetzel proved that when, at the age of 17, he published his very first novel entitled Michael Durbin: An Olympian Tale in December of 2012.
It is an achievement worthy of praise, especially since the feat was done in the middle of his high school stint at New Egypt High School in Ocean County, New Jersey. For the young Durbin, the book was a culmination of his efforts to come up with an innovative and entertaining story, a skill he developed at a very young age, says his supportive mother, Michelle.
"To see a copy of his novel come in the mail was unbelievable because he took it upon himself to do all of the legwork for it. It's just wonderful to see his years of work and love of writing coming to fruition. It's almost unbelievable—but since early in elementary school, Billy loved to write. He never gave it up," she said in an interview with the Tri-Town News.
Wetzel's accomplishment was made even more impressive by the fact that he was able to do it in spite of his other responsibilities in school and life—like being the boy next door—nipping at his heels each day. He persisted on fulfilling his literary goals in the midst of very demanding activities including cross-country and track running, taking part in the student government and model congress, and of course, the Boy Scouts.
"The book is more of a different take on the Beijing Olympics. It's fiction, but it's more like an action-adventure/ mystery and suspense thriller," Wetzel said of his book. The book revolves around the title character, a fourteen-year-old baseball player at the 2008 Summer Olympics in China who gets involved in a brouhaha between the United States and the host country, with the latter hatching plots to gain vengeance on the former using a mystical scroll.
While writing the book was not a problem for the youngster, publishing it became a tedious adventure as hashing out the kinks of the manuscript took plenty of time. "After writing the book, I realized there were some major plot holes I needed to fix. So that's where the past couple of years went," he explained.
Moreover, finding a publishing company that would take a chance on the hopes and dreams of a seventeen-year-old proved to be challenging at best. It was then that Trafford stepped in to guide Wetzel through the publishing process. With the help of his parents who assisted in shouldering the expenses, the paperback version of Michael Durbin: An Olympian Tale finally came out late in 2012.
"It was kind of hard to find a publishing company that would take my book because I'm under 18. Not many would accept it," Billy said.
Following his breakthrough, Wetzel claims that the first book was merely a slice of the pie. In time, he plans to serve a whole plateful of his literary work for all the world to enjoy. He added that he intends to develop his main character into a veritable franchise.
"I am going to continue writing. I have a lot of other ideas that I would like to get out, but right now I'm just focusing on Michael Durbin and expanding that into a franchise," said Wetzel.
And just like before, Wetzel will have to work on it while juggling several activities at once, least of which is senior year and a summer job as a ride operator at the Six Flags Great Adventure. The author also has his eyes on pursuing a degree in journalism or even secondary English education in college, with the goal of making writing into a profession.
"If this ends up doing very well and I end up getting a lot of publicity and people buy it, I would love to be a writer as a full-time job," added Wetzel.
He also had wise words of advice for young and creative minds dreaming of becoming writers in the future.
"Don't rush the process, take your time . . . and try to get the most out of it. Just have fun and make it a good experience for yourself," Wetzel concluded.
By clicking "Request My Free Consultation", you are providing your electronic signature, voluntarily authorizing Trafford Publishing and its affiliates to contact you using a manual or automated telephone dialing system and send you advertisement or telemarketing messages by email or text/SMS/MMS message to the address and phone number you have provided above. You are not required to agree to this in order to buy products or services from Trafford Publishing. You certify that you are over the age of eighteen (18). You'll get up to ten (10) messages per month. Standard message and data rates may apply. Click here to view our privacy policy.