About Us
Featured

Authors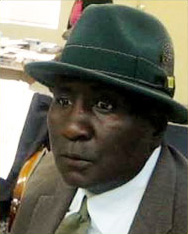 Dwight Jeffery: Sparking Change from Within
At times, all it takes is the right kind of push to get you started on working toward your dreams. Here's where Trafford author Dwight "Mr. Motivator" Jeffery comes in as his profound words of inspiration, published in a neat book entitled SUCCESS Is An Attitude, aims to unlock the teeming potential inside you.
A former civil engineer, a sales executive, a counselor, and an educator, Mr. Jeffery now spends his days as a stand-up comedian and motivational speaker, lifting up spirits across the nation with his humorous wit and inspiring words of wisdom. The East Texas native stands resolute in his belief that success should not be defined by one's title or finances; rather, he asserts that discovering your true self and then realizing your true potential is of paramount importance toward becoming the best version of yourself.
According to the author, his affirmations can be traced back to his days as a teacher, where he had an encounter with a student who had such a pleasant outlook in life but suffered a tragic end.
"As an educator, I had the privilege of meeting a student that I grew to admire very much because of his pleasant attitude. It was this student that motivated me to write this book Success Is An Attitude. This young man was killed on his way home from school," shared Mr. Jeffery.
As awful as that tragedy was, it served as a significant catalyst for Mr. Jeffery. Sensing the need to make a difference in the lives of his students, he took the necessary steps in truly achieving that purpose. "The defining moment for me writing this book was the realization that my classroom was filled with students with negative attitudes and going nowhere fast," he said.
With a wealth of experiences stemming from his time growing up in Upshur County, Mr. Jeffery set about publishing a book that would help others develop a vision and winning formula to go about turning that goal into a reality.
"I am a visual, creative individual; therefore, I use situations and experiences that shaped my attitude about life. My inspiration for the profound reflections came from my life experiences from the lows to the highs in my life as well as the lives of others," narrated the author.
In spite of the laborious work that went into producing the book, Mr. Jeffery said that it was all worth it when he saw the light at the end of the tunnel. The best part? "Final completion! Seeing everything in print and ready for marketing!" answered Mr. Jeffery. The author says that publishing his book is not the end of his literary career as he plans to write a lot more books to continue the work he started.
Indeed, Mr. Jeffery has a bevy of quotes for every instance and occasion. But when asked what his favorite one is, he answered, "Success is yours, if you dare to dream and keep thinking big. You will discover your purpose in life."
And for writers who dare to dream big and try their hands at publishing, Mr. Motivator encouraged them to do so and parted with this saying: "He who thinks for himself and consults God before making important decisions will avoid lots of trouble and many sleepless nights."
By clicking "Request My Free Consultation", you are providing your electronic signature, voluntarily authorizing Trafford Publishing and its affiliates to contact you using a manual or automated telephone dialing system and send you advertisement or telemarketing messages by email or text/SMS/MMS message to the address and phone number you have provided above. You are not required to agree to this in order to buy products or services from Trafford Publishing. You certify that you are over the age of eighteen (18). You'll get up to ten (10) messages per month. Standard message and data rates may apply. Click here to view our privacy policy.