About Us
Featured

Authors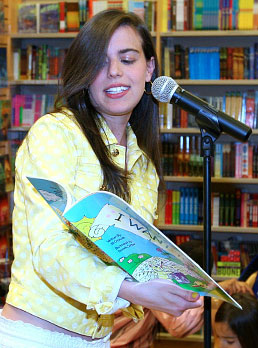 Jill Criscuolo: This Jill Isn't Falling Down
Rare is the woman who can focus and succeed in one realm of the entertainment business, much less three! Such is the uniqueness of Trafford-published author Jill Criscuolo, who at a young age, has already carved out a niche in the business as a brilliant singer-songwriter and a budding actress.
Now, she can add "self-published author" to her lengthy list of accolades with the release of her inspirational illustrated children's book entitled I Want To . . .
The story revolves around the adventures of a young girl named Francesca, better known in the book through her nickname "Frankie." Along with her teddy bear and her cat, Cosmo, she goes on several imaginative adventures that take her through themes of discovery, hope, self worth, companionship, simplicity, and love.
Ms. Criscuolo shares that she developed her writing skills by penning poems, which eventually led to songwriting and eventually pursuing her publishing dreams. "I decided to write my own book when I realized that my passion for writing could go in many directions other than writing songs. My whole life I wrote poems, so I realized one of the poems called I Want To could be turned into a book, and that's how I got to this beautiful new adventure."
She divulged that aside from being inspired by her role models Dr. Seuss and Janet and Allan Albeerg, authors of the children's book Jolly Postman, she was also motivated to write about the curiosity and inquisitiveness of children, a trait that she believes can lead them to set goals that they can achieve in the future.
"My inspiration to write the book was sparked by the curiosity I observe in children. That motivated me to write this story from the heart. I see children every day saying, 'I want to do this' and 'I want to do that!' So, I wanted to show that no matter who or where you are, you can do anything if you use your imagination. The best part about an imagination is we all have that ability, so don't go out looking for one. After reading this, a person will realize that all they have to do is exercise theirs! We all have dreams and goals. Our minds can create the most wonderful fantasies. The book shows us that everything we want to pursue, we can, as long as we want to."
Ms. Criscuolo also candidly divulged that the lead character is a mix of her personalities—one of her childhood and another of her present self. She even let us in on a humorous secret of hers in a rare glimpse into her private life.
"Frankie the lead character in the book is a combination of me as a child and me now! I am extremely young at heart, I still sing while I'm washing my face to make the experience more exciting!" she frankly admitted.
While others may find juggling a bevy of things to be a tedious task, Ms. Criscuolo has no such qualms about it. In what may be considered to be a refreshing perspective of the entertainment business, she believes it to be fun and enjoyable, finding it a blessing to be able to do different kinds of things all at once.
"I balance my time between writing, singing, and acting by enjoying each thing exactly the same! I love doing all these things and I am a lucky girl to be able to do what I love every day!" she gleefully said.
She even added that the self-publishing process was something she looked forward as she found the task of creating storyboards to be most pleasant. "The creative process in writing this book was so much fun. I love to create storyboards so I was like a kid in a candy store when creating this book!"
What she found to be most gratifying though about publishing a book was seeing the smiles on the faces of the children that read it. "The most enjoyable part of self publishing was seeing everyone read my book and the joy it brought to them."
On a final note, the Trafford author shares this passage from her book, one that she hopes will guide readers in their everyday lives:
"'I want to love another with my whole heart and know that will always be enough to make me happy.' The reason I chose this passage is because I wholeheartedly believe that love is what's most important in life and nothing can replace or buy that feeling."
By clicking "Request My Free Consultation", you are providing your electronic signature, voluntarily authorizing Trafford Publishing and its affiliates to contact you using a manual or automated telephone dialing system and send you advertisement or telemarketing messages by email or text/SMS/MMS message to the address and phone number you have provided above. You are not required to agree to this in order to buy products or services from Trafford Publishing. You certify that you are over the age of eighteen (18). You'll get up to ten (10) messages per month. Standard message and data rates may apply. Click here to view our privacy policy.