About Us
Featured

Authors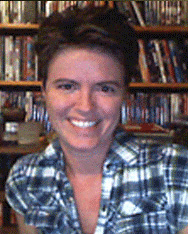 Trafford Chats with Kelli Landon, One of the Greatest Writers You Should Be Reading
Kelli Landon has been writing stories since the tender age of sixteen. Fast forward a few years and all that experience must have paid off; Kelli was recently nominated by the public as one of the "50 Great Writers You Should Be Reading," an event hosted by TheAuthorsShow.com.
Kelli's first novel Sudden Moves was published by Trafford. "Sudden Moves is about a sixteen year old girl who searches for a classmate. The girl left for Spring Break and never returned," says Kelli, who has always harbored dreams of becoming a published author. "Readers can expect an edge-of-your-seat thriller. A real page turner and a surprise ending."
The dark inspiration behind Kelli's books
Kelli says that most of her inspiration came from the movies. In particular the movie Misery, based on Stephen King's novel of the same name. Reading this gave Kelli the motivation to sit down and write. "Stephen King, one of my favorite authors, wrote about a guy who is forced to write a novel in a short amount of time. I thought I could take on this challenge."
Fortunately Kelli didn't have to undergo a painful ordeal like the character in Misery and she's since gone on to publish two other novels, Nightmare at Camp Forrestwood and Summer Shack. Her books commonly feature teens or young adults confronting a mystery or horror that must be resolved.
"The characters have to find the truth for themselves, even by making mistakes. You always learn from your mistakes. That's how I write my books."
Marketing success
Being named by TheAuthorShow as a great writer certainly has helped Kelli's writing career. Since her listing she has received numerous requests for interviews. But her success didn't come out of nowhere. Kelli is an avid book marketer.
Before her selection Kelli would hand out bookmarks, attend book signings and give away free copies of her book. Of course social media played a big part of marketing Sudden Moves. "I spread the word about my book when it came out via Twitter, Facebook, Google, my blog and my website."
Kelli is a talented, experienced writer who is not afraid to get her hands dirty with the marketing side of things. So, from among all the self-publishing companies out there why did she choose Trafford?
Kelli's relationship with Trafford
"Trafford's publishing packages offered so many different markets (e-book, bookstores, websites, etc.)," Kelli said. "My favorite part of the publishing experience is the fact that my book was published in a month. I would recommend Trafford to others."
"The most important thing to consider in choosing a self publishing company is the price and what you are getting for that price. Is your book going to be available everywhere? If so, for how long? Will it ever go out of print?"
Clearly Trafford Publishing was a good choice for Kelli. Perhaps it might work for you too. If you're considering publishing a book just give Trafford a quick call 844.688.6899.
By clicking "Request My Free Consultation", you are providing your electronic signature, voluntarily authorizing Trafford Publishing and its affiliates to contact you using a manual or automated telephone dialing system and send you advertisement or telemarketing messages by email or text/SMS/MMS message to the address and phone number you have provided above. You are not required to agree to this in order to buy products or services from Trafford Publishing. You certify that you are over the age of eighteen (18). You'll get up to ten (10) messages per month. Standard message and data rates may apply. Click here to view our privacy policy.