About Us
Featured

Authors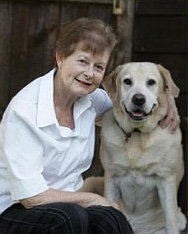 A New Zealand-Born Writer Thriving Down Under
"Funny, that. I don't know whether I belong with New Zealand authors or Australian authors but it doesn't matter," Sutherleand declares. "I don't mind much about categories. As far as I'm concerned I'm a citizen of both countries and my ties to my NZ and my Australian families are equal."
On her journey towards becoming the writer she is now, Sutherland reveals, "Books and writing are among my favorite interests. How did I begin and why do I keep coming back to writing, sometimes after silent years when I've been busy doing totally different things? I find the call to write is quite mysterious. Apart from childish efforts, I didn't pick up a pen in this way until I was into my late twenties. Becoming an author was as far from my reality as becoming an astronaut.
"I was the mother of three preschoolers, living in NZ in a suburb, far from amenities like libraries and bookshops. The only books I could get were stored on a dark shelf at the back of the local news agency, and most of these were light reading. One day Fate let me find the short stories of Doris Lessing and Nadine Gordimer. I read these authors with awe and wonderment. Here were people, women, writing about a modern world that above all else was real. I was in Africa, recognizing the countries' struggles and pain. The fascinating thing about this truth was the way it sprang out of fictions -- made-up stories. I recognized the art of this because nowhere else, ever, had I discovered such a skill in summing-up. I lived in daily confusion and muddle, yet these writers could explain life to me in a way that, regardless of its injustice or its violence, settled out beautifully, elegantly, into something I could understand.
"This wonderful common thing we apparently all shared hid in our hearts, in our feelings and emotions and in the ways in which we treated and were treated by fellow beings. These ideas I already understood from religious training, but my fiction writers didn't preach. Their clarity came from the words and actions of their characters. This was the art I discovered.
"How presumptuous of me to think I might emulate these writers. In my suburban street I was now the one with artistic pretensions. I had a little shelf of books about painters, an anthology of poetry and a few books propped open at classical sculptures which I think caused a bit of gossip. I loved my kids and my husband but often felt restless and confused. Writing was to be my lifeline. I grabbed it with both hands. Boldly I tried my hand at a short story, then another and found early publication. It was easier to be published in the 70s; still, I believe it was meant to be. Novels followed. Despite the interruptions, I have written ever since... diaries, short stories, longer works. I'm still hard at it."
Indeed, this prolific writer's efforts were well rewarded. Her writing credits and awards include the Katherine Mansfield Short Story Award, the New Zealand Scholarship in Letters, and two Australia Council Fellowships.
On the craft of writing, Sutherland offers this advice to aspiring writers, "I believe we have to guard against living a false life. It is far too easy to become someone else's idea. Finding oneself can be unnerving, and it can require the most radical changes of ourselves and others. But it is the only way I know to be happy, and I'm grateful that I found writing because it has shown me truths and given me joy."
Sutherland's stories have been included in many anthologies, most recently in The Civically Engaged Reader (Great Books Foundation of America, 2006.) In 2009, she won a national literary award for her short story, The Camphor Laurel. The author now runs a music teaching practice in Lake Macquarie, New South Wales, with her husband Bill Chaplin.
By clicking "Request My Free Consultation", you are providing your electronic signature, voluntarily authorizing Trafford Publishing and its affiliates to contact you using a manual or automated telephone dialing system and send you advertisement or telemarketing messages by email or text/SMS/MMS message to the address and phone number you have provided above. You are not required to agree to this in order to buy products or services from Trafford Publishing. You certify that you are over the age of eighteen (18). You'll get up to ten (10) messages per month. Standard message and data rates may apply. Click here to view our privacy policy.