About Us
Featured

Authors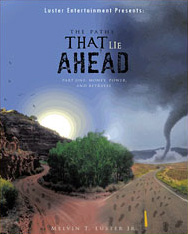 Melvin T. Luster Jr.: From Drug Dealer and Hustler to Legitimate Businessman to Author
Have you ever met someone who, despite extreme disadvantages, succeeded anyway? Meet Milton Lusser, raised in a single parent home in a housing project in Knoxville, TN and constantly in trouble at school, he eventually moves to Fairbanks, AK where he starts a very lucrative business as a drug dealer. Unfortunately, he soon encounters the dark side of his criminal venture. Find out what happens to Milton in the book The Paths That Lie Ahead, Part One of Melvin's Money, Power and Betrayal series.
As a Trafford published author, Melvin states that he wrote The Paths That Lie Ahead for three reasons:
to inspire someone who has given up
to show that every decision we make in life (good or bad) will always have a consequence
to demonstrate that we shouldn't let our surroundings determine our destiny
When asked if he felt he had achieved these goals, he said, "I really and truly feel like I have. I mean everyone that has read my book can see the message behind the words. I just hope and pray that more and more people, young and old, can catch on.
What kind of marketing strategies have you applied to promote The Paths That Lie Ahead?
"I've only tried one marketing strategy to market and promote my book, and that was to have a book release celebration. I attempted to use Facebook and the many friends that I had to promote the event. I was hurt that the event didn't go as expected, and only seven people showed up.
"In all honestly, it started off rocky at first. I mean, the [Trafford Publishing] website clearly states what an author awarded a gold seal would get, and I felt like my book wasn't getting any of the attention that it deserved. [I've] come to find out, Trafford had everything under control and were doing their part. Being a new author, I truly didn't know what to expect. Now a year later, I definitely understand the process. Trafford is a great company to publish your book with if you want to self-publish, so I would recommend Trafford to other up and coming authors."
Milton Lusser is a fictitious character based on Melvin Luster. What was your family's reaction to the book?
"They immediately said that Milton and I were the same person. My mama, fiancée, and sisters were very excited and happy for me. Now as far as my children are concerned, they are too young to read my book straight through, so I allow them to read parts of it, supervised by me, and they love it."
Melvin is currently working on part two of the Money, Power and Betrayal series. "This book starts off where Milton left off in part one. For the people that follow the series and read part one, they will see Milton transform from a street businessman to a legit businessman. The second book is packed with surprises, so you just have to stay tuned."
His advice to potential Trafford-published authors
"The advice I would give to an aspiring author when wanting to self-publish is: Believe in yourself and your work, stay positive, and most importantly be patient. I just go for it. When I wake up, if I feel like writing, then I write. Basically, if I feel it, I do it. It's very simple."
By clicking "Request My Free Consultation", you are providing your electronic signature, voluntarily authorizing Trafford Publishing and its affiliates to contact you using a manual or automated telephone dialing system and send you advertisement or telemarketing messages by email or text/SMS/MMS message to the address and phone number you have provided above. You are not required to agree to this in order to buy products or services from Trafford Publishing. You certify that you are over the age of eighteen (18). You'll get up to ten (10) messages per month. Standard message and data rates may apply. Click here to view our privacy policy.