About Us
Featured

Authors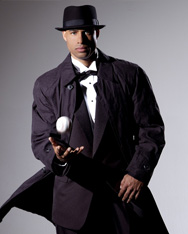 Miguel Batista, Pitcher and Poet
In the Dominican Republic, Miguel Batista is known as el poeta—the poet, but in the United States, he is better known as a professional baseball pitcher with the Mets. Although he makes a living from pitching baseballs, at heart Batista is a writer. His second book, The Avenger of Blood, was published by Trafford.
To celebrate April's National Poetry Month (NaPoWriMo), Trafford caught up with el poeta to ask him about his writing career, his poetry, and his future publishing plans.
Before publishing The Avenger of Blood with Trafford, you had a written a book of Spanish poetry. What kind of themes did Sentimientos En Blanco Y Negro deal with?
The book is a collection of poems from my years of growing up. I wanted it to be different, to show a window of what I was seeing in that moment of time, so I decided to put pictures in black and white of people to show the reality of things. I had never seen a book like that before.
When did you first get the nickname El Poeta?
The nickname came right after I published the book. The owner of the winter ball team I was playing for in Santo Domingo called me that during an interview, and now I can honestly say that a lot of people know me more by my nickname than my real name.
Do you also write poetry in English? How about a sample?
Yes, I do have some things in English; the first time I wrote [a poem] in English was in the bullpen of the Atlanta Braves ballpark back in 1998. I titled it "Do you remember." I entered it online under the name of my ex-wife, and four weeks later they sent her a letter asking her for the right to publish it.
Do you remember?
The quiet nights under the moon
The holding hands in late September
The prettiest days of my childhood
I ask myself do you remember?
We were sweethearts in high school
My ladylove who loved me tender
I was your prince that made you laugh
I ask again do you remember?
My silly letters in college times
Our big fights for love or anger
Our first date for Valentines, you were so shy
Do you remember?
We said "I Do" the last December
In front of friends and all the members
I held your hand and gave you a kiss
My happiest day, do you remember?
You went from poetry to The Avenger of Blood, a book about serial killers. What happened to influence your change?
Nothing really happened; I'm just a writer. I write about a lot of things, but fiction was something that I always wanted to do. A lot of my teammates asked me the same things, but I always tell them that poetry is a moment in time. When the inspiration comes, you have to frame it, write it down, or it's gone!
Where did you get the inspiration for The Avenger of Blood?
I always wanted to write a book with the things I believe a good story should have. So when I decided to write The Avenger of Blood, I took two of the most sensitive issues in our society, the law and religion. I tried to create a scenario where facts and faith could face one and other in the court of law to decide what could be the right thing to do when there is no written law on how to proceed when God took part in the crime.
You must be very busy with your baseball career, so how do you find time to write?
Writing is like love; you always have time for love, so you always find time to write. Between flights, batting practices, and late at night, there is always small window.
The media has reacted with surprise that you are a published poet. How do you respond to that?
That poetry is just a way to express yourself; it's not magic. That the fact I play baseball for a living doesn't mean I can't be attracted to poetry like any other person in town. Poetry, as well as sports, is a bridge that gets people together, gets them to think and meditate over every aspect of life.
According to a Wall Street Journal article, you spend your free time reading. So what kind of books do you read these days? Any favorites?
I read a lot of things, anything that can enlarge my knowledge. Reading is like going to an Eden of words. I like Paulo Coelho, Kahlil Gibran, Pablo Neruda, Krishnamurti, Dan Brown, Gabriel García Márquez.
What does the future hold for your writing career? Any plans for another book? What would it be about?
Krishnamurti said that "the awaking of the mind is curse, after you're awake you never go back to sleep." It's the same thing with writing. When you become a writer, you will always write. You might not publish, but you never stop writing.
What is the one message you would like to convey to your readers?
That writing is the most powerful weapon of all times. We can be heroes, saints, live and die on the prints of a good book. That a book is like a good friend who sometimes can change your life!
How did you learn about Trafford?
My agent was the one that told me about it. She said it was the opportunity we wanted and the place where many writers had found their way.
What was the deciding factor that made you choose to publish with Trafford?
The fact that it was different from all the other ones and more convenient in a lot of ways. Especially for first-time writers, it's hard to find someone that believes in you and gives you the right opportunity.
What was your favorite part of the Trafford publishing experience?
The fact that readers come up to me and say, "You know what? I like the fact that this company prints the book just after I ordered it, it's like having something made especially just for me." I like to see readers happy besides liking my book—that is a special touch.
Would you recommend Trafford to others?
Of course!
What do you think is the most important thing to consider in choosing a self-publishing company?
With The Avenger of Blood I had two experiences; the Spanish version was published by Editorial Norma and the English version with you. Both were successful in their own way.
What should an aspiring author prepare for when planning to pursue self-publishing?
Every new writer has to understand one very important thing: it might take longer than you expect, but never stop writing.
What advice would you give to an aspiring author?
There are many great stories waiting to be told. You never know how far you can reach until you try. One page at a time, one chapter at a time!
By clicking "Request My Free Consultation", you are providing your electronic signature, voluntarily authorizing Trafford Publishing and its affiliates to contact you using a manual or automated telephone dialing system and send you advertisement or telemarketing messages by email or text/SMS/MMS message to the address and phone number you have provided above. You are not required to agree to this in order to buy products or services from Trafford Publishing. You certify that you are over the age of eighteen (18). You'll get up to ten (10) messages per month. Standard message and data rates may apply. Click here to view our privacy policy.