About Us
Featured

Authors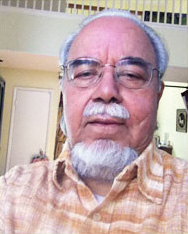 Satish C. Bhatnagar: Language by Numbers
Knowing how to grow old with intent is the art of wisdom. A seasoned veteran with nearly seventy-five years under his belt, Trafford author and mathematics professor Satish C. Bhatnagar has indeed demonstrated his wisdom in this chapter of life. Although the soul is born old, it grows young—Bhatnagar believes that one's book is "a piece of quick immortality."
For this reason, his desire to see his name on a book cover intensified. Wisdom teachers have revealed that aspiration is a flame that comes from within.. By declaring your aspirations, the flame ignites and is released, leading to the discovery of your true character, or as Bhatnagar declares, "it is the journey into my soul."
Reading text on mathematics is unlike reading a novel or reading about history. The first thing that comes to mind is unambiguous, black-and-white information with only one outcome; however, Bhatnagar is unique in this respect.
Fifty years as a mathematics professor in all corners of the world have provided Bhatnagar with unparalleled acumen as well as the philosophical ability to relate the field of mathematics to languages, history, and the dynamics of the world we live in.
Mathematical textbooks are a dime a dozen. Thus, Bhatnagar has always been disinclined to toe the line when it comes to book content. His numerical ability and rationale have shaped his writing into works that are much more profound.
As Bhatnagar perceives it, mathematics has no constraints—it is a language of all walks of life, "a formidable discipline; a powerful tool, as real as a universal wrench in a garage." As a result, Bhatnagar's primary profession complements and supplements his journey as a writer.
"There is a 'nuclear power' of mathematics that lies in its deductive reasoning—the essence of mathematical thinking. The power of deductive thinking in diverse areas can be unleashed by few mathematicians with unshackled minds."
At the age of 15, Bhatnagar began jotting down his thoughts in the format of reflective writing and subsequently took this to great heights. Writing books was never on his agenda, and he would have never considered it, had it not been for the persuasion and persistence of his readers to compile his reflections into published books. As a result, Bhatnagar is now the Trafford-published author of six titles—and counting.
As the saying goes, "it is better to travel hopefully than to arrive." This exemplifies the paths that Bhatnagar has traveled and continues to travel. In a literal sense, his career as a mathematics professor has spanned across three continents while he remains full professor at the University of Nevada, Las Vegas. In a philosophical sense, Bhatnagar's sentiment continues to manufacture reflections on his path to self-realization.
"I have always enjoyed any journey far more than its two terminal points."
On the top of Bhatnagar's six self-published titles, he currently has two other titles underway. He also forecasts at least a second volume to his first five titles. For those who think it is too late to become a self-published author, the writing is on the wall. Bhatnagar's self-publishing journey should give rise to all possibilities.
Satish Bhatnagar leaves you with this piece of advice: "It is pertinent to be passionate about what you write. Do it often and capture spontaneous urges for writing. I am at a point that I start itching for writing after four to five days of no activity. A scratching always produces a reflection for me!"
Satish Bhatnagar's Trafford Publishing Bibliography:
By clicking "Request My Free Consultation", you are providing your electronic signature, voluntarily authorizing Trafford Publishing and its affiliates to contact you using a manual or automated telephone dialing system and send you advertisement or telemarketing messages by email or text/SMS/MMS message to the address and phone number you have provided above. You are not required to agree to this in order to buy products or services from Trafford Publishing. You certify that you are over the age of eighteen (18). You'll get up to ten (10) messages per month. Standard message and data rates may apply. Click here to view our privacy policy.