About Us
Featured

Authors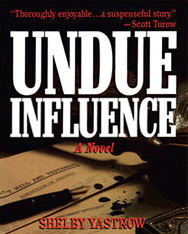 Former McDonald's Executive Revives Bestseller with Trafford
In 1986, Shelby Yastrow, then an executive for McDonald's, was on a flight to Seattle with a fellow Chicago attorney whom he had commissioned to aid in a McDonald's legal case. The talk between the two lawyers soon shifted to a manuscript that Yastrow had been working on to pass the time in hotel rooms. Yastrow's companion eventually read the work in progress and promptly gave him some writerly advice: "You really are good, but you don't know a damn thing about writing fiction."
The advice would have sounded insulting if it hadn't come from future bestselling author and practicing lawyer Scott Turow, who had, at that time, just sold his own debut novel, Presumed Innocent, which was later adapted onto the big screen in 1990 and starred Harrison Ford and Brian Dennehy.
Turow offered Yastrow more writing advice, Yastrow listened, and eventually Undue Influence was published in October 1990 by Contemporary books (who narrowly outbid Simon & Schuster for publication rights) with a blurb from Turow that read, "Thoroughly enjoyable . . . A suspenseful story." Needless to say, Yastrow's debut novel ended up becoming a national bestseller and climbed up to number seven on the Chicago Tribune's national bestseller list.
More than twenty years later, Yastrow decided to republish Undue Influence—as well as another out-of-print novel, Under Oath—through Trafford Publishing. When asked why he decided to revive his two books Yastrow replied: "They were no longer in print. People were asking how they could get copies, and my own supply was nearly depleted. I hated for them [readers] to have to scrounge around looking for used copies, so I decided to republish".
Undue Influence, which features an intriguing premise, follows lawyers Phil Ogden and Tom Andrews as they try to figure out why a seemingly lowly bookkeeper who recently died—and who also happens to be Catholic—would bequeath $8,000,000 to a synagogue through his last will and testament.
The book has, so far, earned rave reviews. According to Foreword Magazine's Clarion Reviews, which recently gave the novel a five-star review, Undue Influence "offers enough dizzying and unpredictable twists and turns in the form of legal conspiracies to move events along at breakneck speed" and that "the reader is compelled to keep guessing at what to expect on the next page." In addition, the influential Kirkus Reviews has called the book "a wonderfully breezy read" and "one of the snappiest courtroom capers yet," while BlueInk Review has praised Yastrow for doing a "sharp, edifying job of writing a thriller" and for making "a thriller out of the ordinary for its genre."
Yastrow says that he came up with the idea for Undue Influence after he and his colleagues from his own law office, got involved in a probate case in which a Catholic priest had died with a one-page will, leaving whatever he had left to the church. It was found out that there was nearly a million dollars stashed throughout the priest's living quarters.
"As expected, the jackals and hyenas showed up—usually in the form of sleazy lawyers—claiming the money was theirs," Yastrow explains. "And of course there were allegations of forgery, trickery, and fraud from all sides. [In the novel,] I converted the priest into a clerk in a brokerage firm and the church into a synagogue, added an extra will and some colorful characters, and eureka—Undue Influence."
Undue Influence is available from the Trafford bookstore, Amazon.com, and Barnes and Noble.
By clicking "Request My Free Consultation", you are providing your electronic signature, voluntarily authorizing Trafford Publishing and its affiliates to contact you using a manual or automated telephone dialing system and send you advertisement or telemarketing messages by email or text/SMS/MMS message to the address and phone number you have provided above. You are not required to agree to this in order to buy products or services from Trafford Publishing. You certify that you are over the age of eighteen (18). You'll get up to ten (10) messages per month. Standard message and data rates may apply. Click here to view our privacy policy.