About Us
Featured

Authors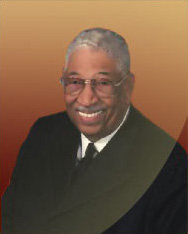 Skipper Lee Frazier—the Mountain of Soul
A man of many capabilities, Skipper Lee Frazier has affirmed himself as a disc jockey, radio personality, community advocate, producer, promoter, manager, and businessman.
Born in Magnolia Springs, Texas, in 1927, Frazier has devoted his time to his successful career in music and radio as well as prospering in many business ventures.
Initially, Frazier entered the radio scene as a part-time disc jockey at KYOK. It was during this time that Frazier did record hops and talent shows, which eventually led him to manage many of Houston's up-and-coming talents.
Following his tenure at KYOK, Frazier developed his love for music by joining KCOH and bringing with him his "Mountain of Soul," which would become his trademark personality, affecting countless lives of Houstonians.
His career in radio facilitated his arrival on the recording scene, where he set the bar for himself as manager, producer, and promoter of several local acts such as the Masters of Soul, Bo Williams, the TSU Tornadoes, as well as managing the group Archie Bell & the Drells, with their number one hit "Tighten Up," written by Frazier, which would eventually bring national acclaim to the city of Houston.
It was this juncture between radio and management that led him to become producer, promoter, booking agent, and master of ceremonies of the KOOL Jazz Festival. The KOOL Jazz Festival was presented in several cities across the country and turned out to be a resounding success.
Throughout Skipper Lee Frazier's association with the music industry, he has been afforded the opportunity to promote shows for renowned artists such as James Brown, B. B. King, the O'Jays, and Wes Montgomery.
Frazier's career was by no means limited to the music industry; he hosted his very own television variety show titled The Skipper Lee Show, ran an advertising business, and operated budget motels.
After a flourishing 55-year career, there was no doubt in Frazier's mind that such an eventful and memorable life should be turned into his autobiography, THE MAN WHO BROUGHT A Mountain of Soul to Houston, Texas: Autobiography of a Disc Jockey.
By clicking "Request My Free Consultation", you are providing your electronic signature, voluntarily authorizing Trafford Publishing and its affiliates to contact you using a manual or automated telephone dialing system and send you advertisement or telemarketing messages by email or text/SMS/MMS message to the address and phone number you have provided above. You are not required to agree to this in order to buy products or services from Trafford Publishing. You certify that you are over the age of eighteen (18). You'll get up to ten (10) messages per month. Standard message and data rates may apply. Click here to view our privacy policy.