About Us
Featured

Authors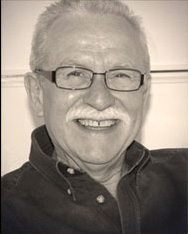 Stephen Penberthy: From Bedtime Stories to Books
As it is wont to happen, it all started with family. Every night, Trafford author Stephen Penberthy would regale his daughter Samantha with stories of a flying dog, the inspiration of which came from a fluffy blue-and-white toy dog given by a friend. Those nightly flights of fancy eventually led to the Penberthy's decision to take those stories and publish them in a children's book that he hoped would not just captivate the imagination of children everywhere, but also instill in them valuable morals and values.
For Penberthy, that publishing dream manifested itself in the book entitled The Adventures of Bird Dog and Friends starring the lead character Birddog, who also went by the nickname Blondie. According to the author, the first book chronicles Blondie taking steps to learn how to fly along with the help of her friends, Bumble Bee, Swallow, Opossum, Monkey, Rocky the Horse and Claw the Eagle. It was published in 2009 and, not long after, drew rave reviews as it was honored as a finalist in the USA Best Books Awards by the USA Book News.
"The concept of the story line started many years ago when our daughter Samantha was very young and I would tell her a bedtime story about a dog that could fly. The nightly stories continued until she grew out of the fairy tale fantasy era. Around this time my wife Harlene suggested that when I retire, I should put pen to paper. So that's exactly what I did," said Penberthy.
Becoming a published author is just another notch in the diverse career of Penberthy, who has previously served in international and domestic hotel management, bank management, and hospital public relations management. He also spent 11 years as the director of public affairs for the Royal Flying Doctor Service of Australia.
In 2002, Penberthy was given the honor of being an ambassador for the Australian Year of the Outback. In addition, he also spent a term as the national executive director of community relations for the Australian Lung Foundation.
Penberthy said that the book is just the first of a series. He also hopes that the book will get to have a positive influence on its young readers.
"The book is dedicated to our daughter and in memory of her beautiful Labrador, Blondie. The story line will capture the imagination of children and instill an understanding of friendship, teamwork, caring for one another, kindness, manners, achievement, and values within a framework of adventure," explained Penberthy.
By clicking "Request My Free Consultation", you are providing your electronic signature, voluntarily authorizing Trafford Publishing and its affiliates to contact you using a manual or automated telephone dialing system and send you advertisement or telemarketing messages by email or text/SMS/MMS message to the address and phone number you have provided above. You are not required to agree to this in order to buy products or services from Trafford Publishing. You certify that you are over the age of eighteen (18). You'll get up to ten (10) messages per month. Standard message and data rates may apply. Click here to view our privacy policy.