About Us
Featured

Authors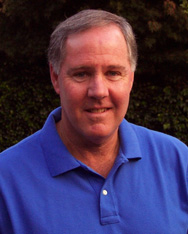 Steve Swatt reveals the truth behind political reporting
For over two decades, Steve Swatt was a political reporter for KCRA, Sacramento's NBC affiliate, and he contributed to NBC Nightly News, the Today Show, and other public affair programs. He's been recognized for his work and won several awards, including the Northern California Emmy Award.
Using his experiences as an award-winning journalist, Steve has written a thrilling novel based around Sacramento politics, which is winning him yet more awards. Trafford Publishing interviewed Steve to find out more about his career, how it influenced his fiction writing and what tactics he has employed to boost his book's exposure.
So, what's your book all about? What can readers expect to get from it?
Fair, Balanced…and Dead is a fast-paced, entertaining political thriller set at the State Capitol in Sacramento in which a TV political reporter tries to unearth the biggest political scandal since Watergate. It draws heavily on my experiences as a political reporter and, at times, is critical of the broadcast media's approach to news and public affairs.
How did your real-life experiences as an award-winning journalist help to shape the book?
I spent twenty-five years as a journalist, mostly as a reporter covering state and national politics. As such, I produced approximately five thousand stories and have covered, in-depth, some of the major political figures in modern US history, beginning with Ronald Reagan's tenure as California governor. My experiences are the basis for the book. Fair, Balanced…and Dead takes the reader behind the scenes in the halls of political power and at a major television station to see how news stories are produced—not always in the public's best interest.
Primarily, Fair, Balanced…and Dead is a political thriller designed to entertain the reader. However, woven into the plot is a discussion of the news media's disdain for important public policy coverage and their dependence on ratings. This obsession with ratings has turned local television into a popularity contest where being best and most responsible is not as important as being number one. In fact, local television is no longer in the news-gathering business—it is in the audience-gathering business.
Did writing the book require much research?
Although Fair, Balanced…and Dead is a novel, it is based on real-life experiences of a political reporter, and there are frequent references to actual events. For example, there's a reference to the attempted assassination of President Gerald Ford by a member of the Charles Manson family. I covered that story as a reporter, so before writing that segment, I reviewed videotapes of our coverage.
Had you always wanted to write fiction?
There's an old saying that says, "In every reporter there's a novel waiting to be written." Actually, I started working on a novel when I was a rookie news reporter for United Press International in Los Angeles. It was going to be about the first African American mayor of Los Angeles and the machinations of his political opponents to keep him out of office. I was still working on it when Tom Bradley actually became the city's first African American mayor. I decided that nonfiction trumped fiction, so I abandoned the project.
How much of your personal experiences as a journalist went into the novel?
Authors are always taught to write about something they know. When Jack Summerland argues with his news director over the direction of his blockbuster story, it's similar to arguments I had with management when I was a reporter. When Jack gets stonewalled by political operatives, it's very similar to situations I faced trying to uncover stories at the capitol. And when Jack is preoccupied with scooping his competition, that's the same motivation I faced as a reporter.
Was it a difficult transition from journalism to fiction?
As a journalist, you're taught to get the facts, make sure they're accurate, and report them to the public. When you write a novel, you make up the facts and scenarios, then put them in writing. All it takes is a fruitful imagination. Since many of Jack Summerland's experiences mirrored my own, it was pretty easy to write.
When your book first came out, how did you spread the word about its release?
My first move was to seek publicity where my reputation as a reporter was still known. I had my book reviewed by the Sacramento Bee (which called the novel "fast-moving, twisting and satisfying") and other publications in Northern California. The Bee actually ran two stories on the book and my new career as a novelist. I did radio and television interviews. In addition, I entered the book in awards competitions and was fortunate to earn two awards for fiction. It was a finalist in the Next Generation Indie Book Awards competition, and it won second place in the Laine Cunningham Novel Awards competition sponsored by the Blotter literary magazine. The awards judges referred to the novel as "[A] compelling political fiction novel that maintains a wry sense of humor. Although the plot is complex, readers stay anchored in characters who are more real than today's politicians. In this novel of intrigue and backroom deals, nothing is certain except death and scandal."
What is the most successful thing you've done to market and sell your book?
One interesting way I marketed Fair, Balanced…and Dead was deciding to donate all the profits from my book sales to nonprofits in Northern California. That enabled me to partner with numerous groups, which hosted book signings for me. I was able to sell books and donate proceeds to groups that raised funds to support such causes as journalism scholarships, housing for the homeless, women's centers, and service clubs throughout Northern California. After a synagogue was firebombed, I signed and sold books to benefit rebuilding efforts.
What is the one message you would like to convey to your readers?
News organizations these days are trying to cope with new realities: shrinking readership and viewership, competition from unconventional sources, technological changes, and—of course—economic conditions. Many news outlets have resorted to "infotainment" to boost ratings or circulation. But gathering and reporting news about public policy is critical to our democracy. News organizations—at least the good ones—keep us informed about news and information we need to make informed judgments. They often uncover important stories that the public needs to know. Those serious, hard-working news outlets deserve our support.
What's next? Do you have any plans of writing another book?
I am working on second book, another Jack Summerland novel, in which our intrepid reporter tries to overcome severe odds to uncover political scandal.
How did you learn about Trafford?
One of my friends used Trafford to publish his book. He had researched the company extensively, even visiting its headquarters and recommended it to me.
What was the deciding factor that made you choose to publish with Trafford?
I compared numerous self-publishing companies and found Trafford to be the full-service company I was looking for. Plus, my author friend had a great experience with Trafford and was about to publish his second book with the company.
What was your favorite part of the Trafford publishing experience?
I'd have to say that my favorite part was seeing that initial galley proof of Fair, Balanced…and Dead. Once you see your document in print, you feel that you've actually accomplished your goal of writing and publishing your book. Trafford did a beautiful job.
Would you recommend Trafford to others?
Trafford has everything an author needs—from page layout to marketing. It was very easy.
What do you think is the most important thing to consider in choosing a self-publishing company?
The company's versatility and reputation. Anyone can print words on a page and call it a book. But what does the finished product look like? Will you get assistance throughout the process? Is the publisher there for you after the book is in print?
What should an aspiring author prepare for when planning to pursue self-publishing?
Authors should recognize that seeking an established agent and publisher can take many years (if lucky!) and that self-publishing is an easy, reliable, and affordable way to get a book published. But the author needs to be armed with questions for his/her publishing consultant. Don't be afraid to ask those questions.
What advice would you give to an aspiring author?
Don't get discouraged. In years past, authors might spend years writing a book without any publisher noticing it. Those days are gone. Today, any book can be self-published. You just have to do your homework to find the self-publisher that works best for you.
By clicking "Request My Free Consultation", you are providing your electronic signature, voluntarily authorizing Trafford Publishing and its affiliates to contact you using a manual or automated telephone dialing system and send you advertisement or telemarketing messages by email or text/SMS/MMS message to the address and phone number you have provided above. You are not required to agree to this in order to buy products or services from Trafford Publishing. You certify that you are over the age of eighteen (18). You'll get up to ten (10) messages per month. Standard message and data rates may apply. Click here to view our privacy policy.