Talking About Wine with Ease
by Linda R. Foxworth & Robert W. Wildman II
---
Health and Happiness
Robert W Wildman II Ph.D. & Julius M. Rogina Ph.D. ABMPP
$13.66
The Inquisitive Yanqui
Bob Wildman
$17.48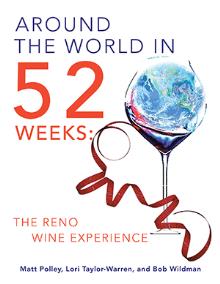 AROUND THE WORLD IN 52 WEEKS:
Matt Polley, Lori Taylor-Warren & Bob Wildman
$43.99
---
Publication Date
:
5/7/2015
---
About the Book
This book is a practical introduction to the enjoyment and service of wines, particularly in business-social settings.
---
About the Author
Linda Foxworth is a Certified Specialist of Wine through the Society of Wine Educators. She is administrator of the blog From Vinho Verde to Barolo with Love: Life Reflected in Wine, and Reno wine writer for examiner.com. She makes her home in Reno with her husband and two children. Bob Wildman is also a Certified Specialist of Wine. His day job is being a clinical psychologist, and he has published extensively in that field. His novel The Inquisitive Yanqui was published by Trafford in 2013.