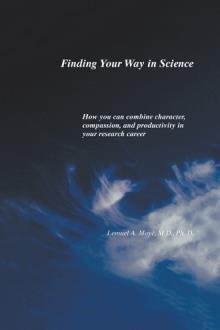 Finding Your Way in Science
Lemuel A. Moye M.D. Ph.D.
$33.89
Catching Cold: Vol 1 - Breakthrough
Lem Moyé
$28.99
Weighing the Evidence
Lem Moyé
$13.99
---
Publication Date
:
4/18/2017
---
About the Book
A controversial viral infection offered as revolutionary therapy; a struggling family damaged in the name of science; a deadly disease rising from obscurity; the treacherous scheming of the drug approval process. These gripping themes are at the heart of Saving Grace, a provocative Medical-Thriller that exposes the complications of modern drug development. Praise for Saving Grace I just could not put it down. I thoroughly enjoyed it. -Vice President of Regulatory Affairs…Pharmaceutical Company OK, I'm hooked …It is all very exciting. - FDA Consultant I finished the book over the weekend. I really enjoyed it and would recommend it to others. -Investment Banker The novel does a very good job of personalizing a very critical part of health care. -Optometrist You really faked me out… I did thoroughly enjoy reading your book. - Ex – FDA Employee and Current Big Pharma Scientist The book is gripping… It is not just easy to read, it is hard to put down! -Attorney The story certainly drew me in and made me want to keep reading. -Epidemiologist and Big Pharma Employee This is really very very good….great writing. -Current Big Pharma Employee This is a story that has to get out and this book will do it. - Current FDA Employee
---
About the Author
Dr. Lemuel A. Moyé, M.D., Ph.D. is a licensed physician in Texas, and Professor of Biostatistics.He has served as consultant to the pharmaceutical industry and has worked as a member of an FDA Advisory Committee. He currently is working with the National Institutes of Health on stem cell research. Dr. Moyé has written seven books in statistics. His book Caring for Katrina Survivors: A First Responder's Tribute (Open Hand Press) has won five awards including the 2007 Ben Franklin Award for Best Multicultural Book of the Year.