WHY DID YAHWEH AND HIS SON YAHSHUAH SAY WHAT THEY SAID?
A WHO'S WHO THAT MAY CHANGE THE WAY WE LOOK AT ESCHATOLOGY
by Dr. Justin G. Prock
---
Biblical Eschatology:
Dr. Justin G. Prock
$32.99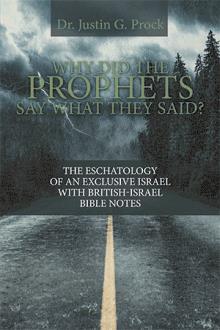 Why Did The Prophets Say What They Said?
Dr. Justin G. Prock
$32.99
---
Publication Date
:
5/7/2020
---
About the Book
YAHWEH (The LORD God) and His Son YAHSHUAH (Jesus Christ) made statements with regard to Eschatology that have been "Spiritualized" for over a Millennium, which has led to the belief in Universalism, the belief that YAHSHUAH died for EVERYONE. Well, after one studies the original languages of the Hebrew, Aramaic, and Greek, the message of the Kingdom of God was preached to and accepted by a certain House in the Bible. The other House rejected this message, and YAHSHUAH punished that House by taking the Kingdom away from them and giving It to another nation bringing forth fruit. There are only the House of Israel, the House of Judah, and the House of David, mentioned in the Bible. All three existed then, as they do today. However, most of today's Babylonian Priesthood/Churchianity refuses to accept the secular historical position with regard to the House of Israel, and who they are today. The people groups, which YAHWEH and YAHSHUAH addressed, still exist today. However, these people are all mixed-up, and known by different names, but they DO exist. This book goes back to the origin of these people groups in the Bible, and brings them forward to the present using their old names, in order to understand Eschatology. This brings us to the major question of, "Is the Bible only about Israel?" And, if so, how does it affect our Eschatology today? This book answers these hard questions...
---
About the Author
Dr. Justin G. Prock is currently a professor in South Korea, where he teaches English, and English and Culture, which includes Bible Prophecy, Current Events, Economics, History, and Political Science. Dr. Prock holds a Bachelor's in History from Tennessee Technological University, a Master's in Biblical Studies, a Ph.D. in Biblical Studies/Eschatology, and a Master's of Divinity from Louisiana Baptist University, as well as a Certificate in Kingdom Studies from The National Bible College in Durham, England. Dr. Prock grew up in the Episcopal Church; however, due to the beliefs of that denomination, Dr. Prock's family left the church and spent several years "church hopping." However, YAHWEH got a hold of Dr. Prock, and he was "born again" on January 6, 2003 at You Turn for Christ, a ministry of Calvary Chapel, and has been a student of the Bible ever since. Dr. Prock has been married ever since 2010.